Walk in Health congratulates

Joan Srednicki

I'd been having problems trying to lower my cholesterol for the last three years.  My triglycerides had been around 370 for those years.  I was even sent to a heart doctor to see what he could do for me.  The answer was basically, nothing - since I'm allergic to statins.  The doctor had tried three different ones and they all gave me severe muscle cramps.  Two friends of mine had recommended Felecia to me and I have been coming for three months.  I am very happy to say that thanks to changing my diet and taking the supplements Felecia recommended, my triglycerides are down to 193!!!  I still can't believe the improvement.  I hope to lower them even more as I continue on, with Felecia's help.

Sincerely,

Joan Srednicki 11/09

Zachary Rada

My 10 year old son Zachary has been in and out of the hospital due to his Asthma during high pollen season.  He was coughing and wheezing, so he has been on Albuterol, cough syrup, antibiotics to help his breathing, but it always came back.  He is very thin, but I was concerned with all the side effects of the medication.

I brought Zachary in to see Felecia in the beginning of October 2010, he was coughing really bad and the medication was not helping.  So, he started taking the supplements recommended by Felecia and within one week his coughing improved.  I stopped all medications, and since October 4th, he has taken the supplements, he has not had to use the nebulizer once.  He is back to playing sports and not missing any school.  Thank you so much!

Melissa Adel Rada

"I was feeling extremely tired and sleepy all of the time.  My energy level was down around my ankles, as they say.  I was also exhausted trying to figure out how to take care of myself so that I could feel better and accomplish my goals.  Since working with Felecia and beginning a vitamin regimen, I feel like a new person.  Not just physically, but mentally as well.  Her insight and ability to communicate to me how my body works and how to nourish my cells, skin, hair, etc. has revolutionized my relationship to my body.  I am finally learning what it means to, "walk in health."  God has given us those with the gift of healing to help us thrive...Felecia is a gifted healer!"

Sincerely, G. W.

Los Angeles, CA

 "In October 2005 I was diagnosed with Diabetes, High Blood Pressure and a Sleeping Disorder.  

I don't remember feeling as good as I felt after meeting with Felecia. Taking her advice provided me with optimal health and a quality of life that I did not know previously was made available to me. As I continue using the products that Felecia recommended, my body remains healthy, my mind stays alert, and all the symptoms I had in 2005 are 

CC Mississippi

More Testimonials

          Francesca DeMarco

The best thing I ever did was come to Walk In Health and learn from a fabulous Holistic Nutritionist.  I have learned so much about the food we eat, how it can cause serious disease and what it really does to your body.  Things I was eating before that I thought were good, just were not at all.  I was so surprised; I had one realization after another.  I no longer said the word, "diet."  I was not going to set myself up for failure.  I was making a life change and every day I was just making healthy choices.  After six months, I had lost 30 lbs!  My energy was no longer in "ups and downs".  I felt good all the time.  My "get up and go" was no longer blocked and I was so happy because I was in control for the very first time.  I never even know what it felt like.  It was amazing when you are in control, you feel like you are on top of the world.  My acne and red blotches on my face were gone.  My skin was looking better and better.  My terrible moods were gone and from eating right, my menstrual cycle was such a breeze—I had no body aches or pains.

People listen, we are what eat; treat your body well.  I can't believe the way I suffered before, all because food controlled me.  I am so grateful for meeting Felecia and going through the Walk in Health program.  She just wants America to wake up and be healthy and she is doing it one person at a time.  Remember, cancer cannot grow in a healthy body.  So, treat yourself and your body with TLC!!!  Thank you, Francesca DeMarco

What was it like before you came in to see us?

I had major headaches - daily!

Hot Flashes 4-5 times a week

Irregular bowel movements

How is it now?

In less than one month, my hot flashes have disappeared completely!  I have had only one headache!!

I have daily, soft bowel movements.

I am also sleeping better - a sounder sleep - not waking up as much as I did!!

It is incredible!!!  I also lost 8 pounds without trying!!

L. M. 5/5/10

Bayonne, NJ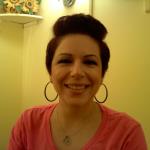 Before I came to Walk In Health, I had no clue about being healthy. I thought I did, I would diet and probably thought I was eating good, but never had any good results. I looked the same and I always had red blotches on my face and bad acne. I felt tired all the time and that just made me feel terrible. I was like a rollercoaster—happy, then sad, high energy, then none at all. I'm so young and I really wanted to be healthy and enjoy life. I was so moody and I had to push myself to do simple things, like go on walks and exercise. I was completely missing my get up and go spirit.